Why We Run: My Dad, Bob Muckley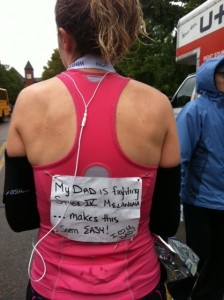 I run to support melanoma research in memory of my father, Bob Muckley.
Dad was always my biggest fan since the day I started running. He sacrificed so much so that I could travel to my races and have the shoes and gear I needed. He quickly learned when I had a good race and when I had a bad race and he wrapped me in his arms with pride after every race, no matter the outcome. I always felt that qualifying for the Boston Marathon was something out of my reach (the time for my age group is 3 hours and 35 minutes). But when my dad found out in February of 2011 that the melanoma he thought he had beaten had come back with a vengeance, I dove into a training regimen with the goal of qualifying for the Boston Marathon. I wanted to give Dad something positive to think about and to be proud of.
The day of the race arrived in October 2011 and, sadly, Dad was simply in too much pain to come out and watch. He called me that morning to wish me luck and I knew he would be in my heart for the entire race. About 5 miles into the race, I realized that I had been running next to or near the same gentleman for some time so, understanding as runners we're all in the same fight at some point in a race, I introduced myself while I was still feeling good. He introduced himself…his name was Bob. Were I not trying to control my breathing I would have started sobbing right then. Bob and I proceeded to run the majority of the rest of the race together. Near mile 24, when my legs wanted to give out, Bob passed me from behind and shouted a few last words of encouragement to get me over the "hump". Coincidence that his name was the same as my dad's? I tend to think not.
I qualified that day with nearly 7 minutes to "spare" and made Dad proud. Sadly, just over a month after that race, Dad lost his race to beat melanoma. He fought a great fight, was dearly loved, and is dearly missed.
My personal challenge began the minute dad was diagnosed by committing to raise funds for melanoma cancer treatment and cure research.
Melanoma is the fastest growing cancer in the United States and worldwide. One person dies every 60 minutes from melanoma. And, there is no effective medical therapy for metastatic melanoma.
I took on this challenge to do something big that will increase awareness and support research for the CURE.
~ Jen Muckley, JMT-Chicago