Virtual Runner
Any Race … Any Time … Any Where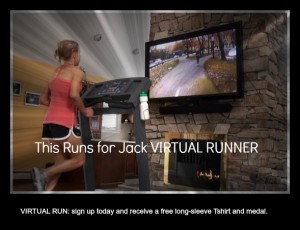 WHAT IS A VIRTUAL RUN? There are no rules, no finish times, no distance restrictions. Run/walk a treadmill, around the neighborhood or don't run at all. It's up to you. It's on your time. Form a Virtual TEAM and set up a fundraising page.
We welcome all who want to make a difference in the fight — raise awareness, fund research, support healing.
Virtual Runner started at the 2013 "This Runs For Jack" when friends from all over the country wanted to support the 5k, but could not make the trip to Illinois or had a calendar conflict.
Details
Make a $50 donation to Jack's Fund
Let us know you or a group are planning a Virtual Run
We will send you a shirt and medal
Start Here – Contact Us