$5000 Donation Funds Four New Shade Shelters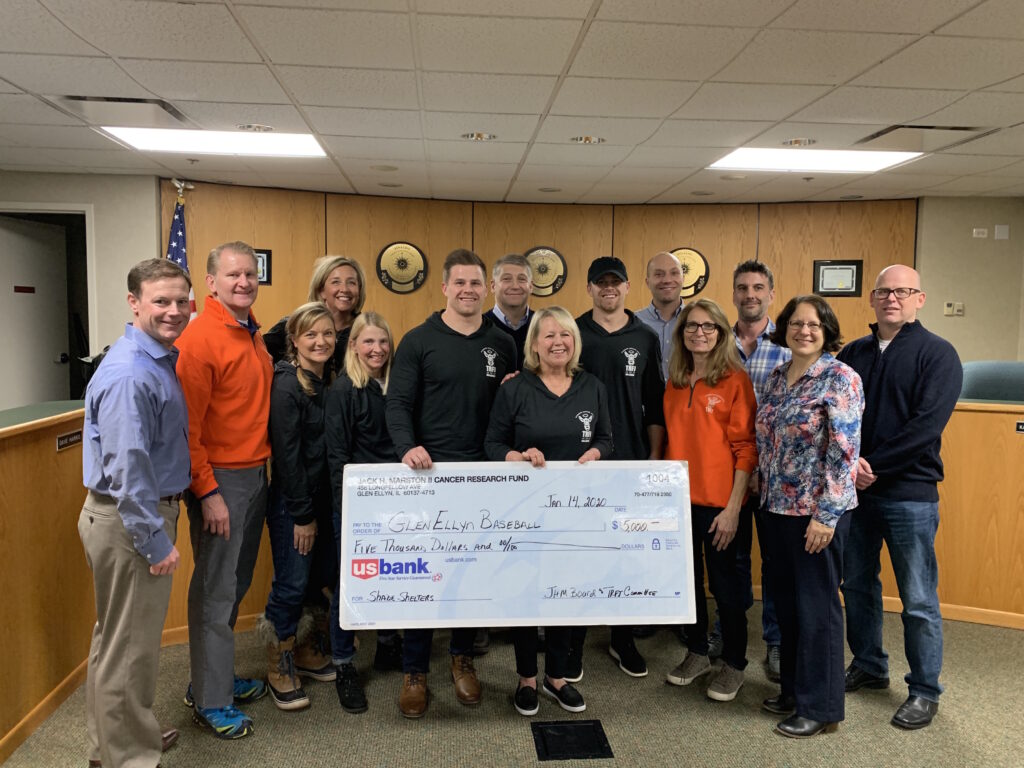 January 14, 2020:  The Glen Ellyn Board of Commissioners would like to recognize Sharon Marston, along with the Jack H. Marston II Melanoma Fund Board of Directors and This Run's For Jack Committee members for their support of the GE Park District along with their assistance to help fund four new shade structures at Village Green Park for baseball fields 5-8.
Jack Marston was a longtime GE Park District volunteer coach in many sports and the winner of the 2005 Rich Maken Award, which recognizes a person whose involvement in the Glen Ellyn Youth Baseball program as a manger/coach best exemplifies the program's goal of bringing the love of the game to Glen Ellyn.  In addition, he was an avid runner and four time Chicago Marathon participant.  Sadly, Jack lost his battle to melanoma on July 12th 2004.
This Run's for Jack 5k, established to raise funds  and awareness for the Foundation's efforts, is held every year in honor of Jack, the countless hours he gave to the community, his athletic successes and the four marathons he ran (one for each of his children).
On October 20th 2019, the 16th Annual This Run's for Jack 5k was held at Ackerman Park and the surrounding streets of Glen Ellyn to raise funds to support their mission, a portion of which was earmarked to help fund the new shade shelters at Village Green Park.
Installed prior to the 2019 baseball season, the shade shelters have been a welcome addition and have received numerous compliments including the following:
"My family and I spent the weekend at the Village Green Baseball Fields watching our 10-year-old son play in a baseball tournament.  We also watched him play there last year and this year, we immediately noticed the new shade structures over the bleachers.  Many people commented that the shade structures were a great improvement and made watching the baseball games much more comfortable!  Thank you!"
Without the support and commitment of Jack's Fund, the shade shelters would not have been possible. With their generous and thoughtful contribution, they are now a reality.
On behalf of the GE Park District and the Board of Commisioners, we would like to recognize and thank Sharon Marston and the Jack H. Marston II Melanoma Fund Board of Directors and This Run's for Jack Committee Members for their efforts and support to provide the shade structures at Village Green Park in the quest to prevent melanoma.  The Park District looks forward to continuing to support the Foundation's efforts and the annual This Run's for Jack 5k.
Join Us on Social Media