"Game On" Scholarships -


The Board of Directors is pleased to award a four-year, renewable $1,000 "Game On" Memorial Scholarship to a Glenbard West graduating senior. In order for the scholarship to renew each year, the recipient must volunteer 10 hours of service to the Fund's mission and maintain a 3.0 GPA at their University or College. Selection criteria includes a 4-year cumulative GPA of 3.8 or higher, participation in a sport at Glenbard West for four years, and the receiving of a varsity letter. In addition, each applicant submits an essay, explaining how they demonstrated a "game on" attitude in life, including how their effort and enthusiasm have had an impact on family, sports, community and school.

Jack Marston experienced life with a "game on" attitude that was exemplified by his enthusiasm for family, sports and community service. The Jack H. Marston II Melanoma Fund is committed to reflecting Jack's values of determination, tenacity, compassion and his competitive "game on" spirit.  Still helping kids win!


---
 2014 Katie Sheline
On May 21, 2014, at the Glenbard West Senior Honors Convocation, Jack's Fund board member, Matthew Marston, presented Katie Sheline with the "Game On" Memorial Scholarship.
Katie plans to attend Georgetown University in the fall, majoring in Business or Economics. As part of her application essay, Katie talked about the importance of raising awareness in this age group and, as a result, hopes to start a "This Run's For Jack" 5k at Georgetown.  Katie received a varsity letter for 4 years of swimming, reaching state and sectional competitions. She is also a swim coach at the YMCA and Lacrosse Coach with Coolsticks. Her community service includes six years of working with Advocate Hospice.
Click here to read Katie's essay(s).   Essay 1 "Game On" / Essay 2 / Thank you Note
---
2013 Erik James Strittmater
The "Game On" scholarship was presented Wednesday night at the Glenbard West High School Senior Convocation Ceremony. Erik will be attending Purdue in the fall. Four year varsity athlete in football and lacrosse. National Honor Society and JKB member. 
Erik's essay, community service and work ethic demonstrated the "Game On" attitude we look for in athletes. Here's an excerpt … "With hands joined together in a chain, we stand as a single unit against all adversity. My sweat splatters against the smooth pavement as my mind races. Preparing for the battle ahead, I mentally simulate all possible situations … Unbeknownst to me this would be my first and last walk down the hill." READ MORE
---
2012 Maddie Nagle
Excerpt from Maddie's essay: … According to all the statistics, they should beat me. My "game on" attitude is knowing that the odds are stacked against me, but I am choosing to be a fighter anyway …. "you may be stronger, but I'm going to beat you" … it's the little things that allow you to accomplish the big things. READ MORE
---
2011 Dayle Comerford
On May 18, 2011, Jack III, Matthew and Michael Marston, at Glenbard West's Senior Honors Convocation presented the "Game On" Scholarship.  Dayle is planning to attend and play softball at Haverford College in Pennsylvania where she will study either Economics or Psychology with a long-term goal of becoming a lawyer.  Read More
---
2010 Timothy Hollowed
The scholarship was presented by Jennifer, Jack, Matthew and Michael Marston at Glenbard West's Senior Honors Convocation on May 19, 2010.
Tim is planning to attend and play football at Illinois Wesleyan University where he will study business. Read More
---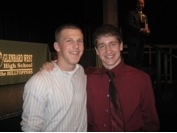 2009 David McCaffrey
The scholarship was presented May 27, 2009 at the Seniors Honors Convocation, by the Marston children.
David will attend the University of Illinois in the Fall and plans to major in aviation with a minor in business marketing. Read More
---
2008 Victoria Noland
Victoria will attend the University of Illinois in the Fall and plans to major in International Studies and Spanish.  Her extra-curricular and community activities include: Students for Students (Vice President), Senior Mentor, Target Success, National Honors Society, Tennis (Captain), Basketball, Softball, National Honor Society, DARE Role Model (speaker/leader for 5th grade students), Clowns against drugs.  Essay:  "Through my involvement in sports, I have learned to handle adversity.  I am a very good athlete, but I am not the all-star athlete in any one of the three sports that I play in high school.  I am not the person to quit the sport just because I may not be getting the most playing time and this attitude has carried forward into how I handle situations in my life …Read More
---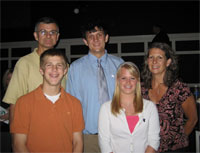 2007 Duncan Lawson
Attending Illinois Wesleyan in the Fall
---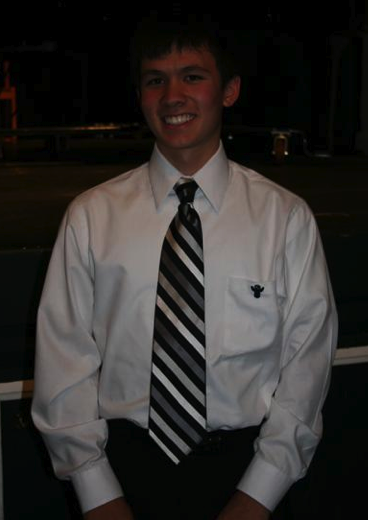 2006 Brian Hyosaka
The first recipient of the Jack H. Marston II Scholarship Award.
---
As part of their service hours for renewal, scholarship winners walk in the 4th of July Parade for Jack's Fund.
| | |
| --- | --- |
| | |
| | |
| | |