Why We Run: E.Phillips
JACK'S MARATHON TEAM – CHICAGO
WHY WE RUN:  EVERETT PHILLIPS (JMT-Coach)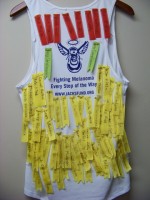 Hi Friends & Family:
Most of you know I have been a marathon charity runner for the Jack Marston Melanoma Research Fund for a number of years now.
This year my target marathon is the 2014 Chicago Marathon on Oct 12th.
Once again I am hoping to find 100 people who will donate $26.2 to this important cause – one that is dear to me and my family.
Both my wife Nancy and her cousin Nora are Melanoma survivors. My children (Charles, Lily and Mary) have regular skin checks and on occasion spots removed for preventive measures. However, as a result of running and fundraising for Jack's Fund over the past 5 years my circle of friends and colleagues who have lost a family member to Melanoma continues to grow and encourages me to help in this important cause.
The photo shows the back of my race singlet that I wore last year at the 2013 New York City marathon.
The names of those persons who we have lost to Melanoma are given on red ribbons and Nancy and Nora on green.
The yellow ribbons are for all of you who have donated the last two years.
Thanks to you – you helped raise ~$3600 last year – truly awesome ! and I Thank You.
Will you help again this year?
Please click the link below to donate.
It is quick, easy and secure.
Your donation is tax deductible.
Thank you for your consideration and for your past support.
Sincerely, Everett