TRFJ: Five Kilometers of Encouragement and Community
Glenbard West High School
Hannah Jackman, Contributing Writer, October 15, 2015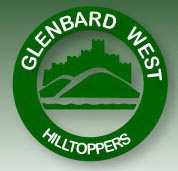 As a highly charitable and involved community, we hear about 5k fundraisers supporting a variety of foundations on a daily basis, but This Run's For Jack differs from those in how it is such a personal cause "that has touched the lives of our town's members and [is] a unique fundraiser to Glen Ellyn; you can't do it anywhere else," says Glenbard West senior and course marshal, Emma Winans.
This year marks the twelfth year of this annual fundraiser, which benefits Melanoma research and is in memory of Jack H. Marston II. While the event is a race, it is more so a walk/run inclusive of all members of the community with a wide range of ages. Everyone encourages each other and supports this amazing cause.
The organization was founded in 2004 by the Marston family as a way to not only honor Jack, "but at the same time raise awareness of this deadly cancer" says his son, Matthew Marston. Since then, This Run's For Jack 5k has cumulatively raised $550,000 to support melanoma research, as well as raise awareness, money for scholarships, and promote survivorship.
What makes this event so successful is not only the local support it has gained over the past twelve years but also the national support. Volunteer Coordinator, Sue Ann Foster, explains how the original committee for This Run's For Jack was unsure if anyone would even come to the first year the event was held. That is no longer a worry; in recent years the race has gained "'virtual runners' from various parts of the country," says Foster, and "welcomes 1,500 to 2,000 people" every October.
This event draws participants and volunteers of all ages and backgrounds.
Many of these volunteers are Glenbard West students from different teams or clubs such as the boys golf team, girls field hockey, Key Club, Mawi, and JKB.

Alby Zander, JKB club sponsor and long-time volunteer for the event, says that after being asked for volunteers many years ago, the club "[volunteered] to help and [they] quickly became the primary course marshals and have been doing this ever since."
Winans, who is also a member of JKB, says one of the most meaningful parts of volunteering as a course marshal is "seeing the families that run together."
The race ends at Ackerman where all participants and volunteers gather for post-race activities around various tents. One of thsse tents is the family tent, which is for Melanoma survivors as well as their families to gather. Tia Simon, organizer and host of the family tent, says it "is a safe place to share memories, laugh, cry, and meet others in the same fight against Melanoma."
The family tent is one of many places where people can build relationships during the event and many people would agree with Zander that "it's all about the relationships" and being "able to help a worthy cause."
Though we do in fact live in a very involved community, there are always those truly generous and caring individuals who do everything in their power to help out with each of their children's sports teams, donate to serviceable organizations, and still seem to be there for family members and friends in times of need. To many residents of Glen Ellyn, that is exactly the man Jack Marston was and as Matthew Marston says, he "was the type of man that every boy should strive to be one day."
Join our community by participating or volunteering on Sunday, October 18th at 8 a.m. To learn more information on This Run's For Jack, Jack's Fund, or to register for the 5k please visit jacksfund.org. To volunteer, email Alby Zander or Sue Ann Foster ([email protected]).  Click here for article.