TRFJ: Remembering Tim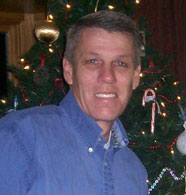 My husband, Tim Postma, lost his courageous 2-1/2 year battle with melanoma on Dec. 10, 2008.
This disease took a 45 year young husband and father of 9 year old twin boys.
He fought his hardest, and faced every treatment with a positive spirit and the utmost determination.
In our 3rd year participating in the "Run for Jack", Tim made it the whole way that day …
he walked about 1 mile of it, and his best friend Jeff pushed him in his wheelchair the rest of way.
It's hard to believe that less than 2 months later he was gone.
Through Jack's Run we found Dr. Richard's office. I believe that because of the excellent care Tim received there, from Dr. Hallmeyer and all of the staff, we were able to have more than a year longer than we originally thought with Tim.
During that year, we went to Disney World and South Carolina….both extremely memorable trips for our sons.
I feel this program and run is getting the word out, and I applaud all who help with this cause.
Melanoma is frightening and aggressive, and early detection and awareness are the key.
Thank you for all your efforts, and for posting this memorial for Tim.
~Debbie Postma – December 27, 2008