Team Captain sets $10K Goal
 "WHY WE RUN" – JACK H. MARSTON II – Fighting melanoma every step of the way.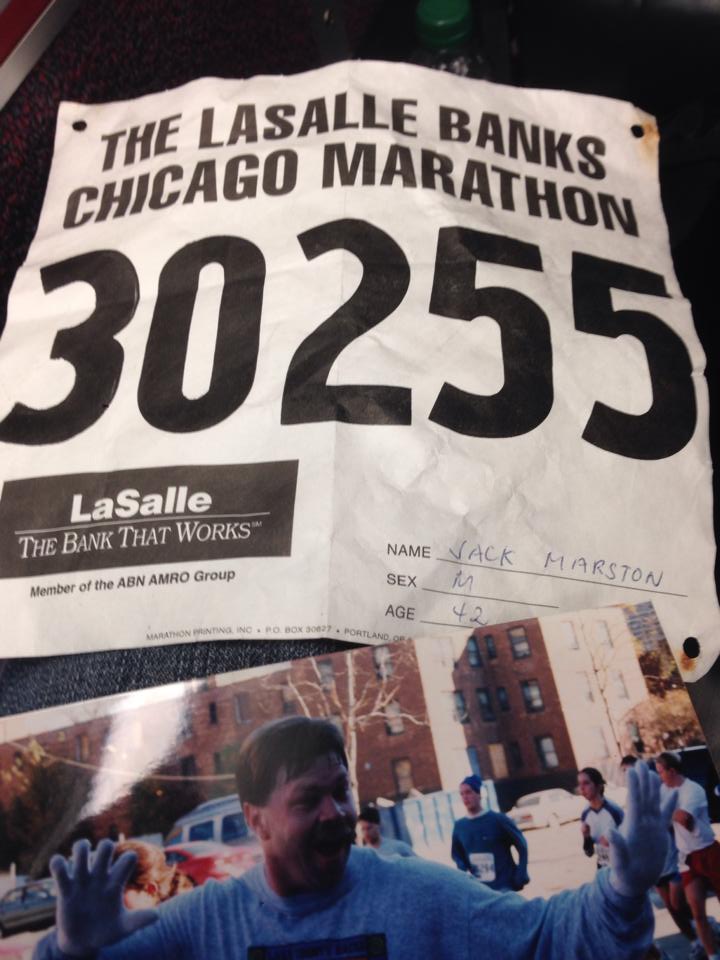 Friends,

I hope this note finds you well!!
I'm back once again, running the Chicago marathon and doing it as a part of and in honor of good friend Jack Marston.
This will be my 13th Chicago marathon to get to start line and Lord willing 21st marathon to finish.
This will be my second marathon this year, Boston in April, what an incredible experience that was, much needed closure for myself and Boston.
Chicago and Jack's Team is the one I always look forward to, I'm very blessed to be a part of this and I'm asking you all once again to partner with me.
We've raised over $60,000 since we started this partnership … I can't do this without you!!
We've talked about this before … I'll do the easy part.  I'll run the 26.2 miles with one million people watching. I've trained hard, I still get up and out the door by 4:30am. I run hills, I do speed work , I do my long runs. This is who I am, what drives me. The other part, one big reason I run other than the obvious, the mental, physical and spiritual part is, I Run For Others!! I always have, I always will. I pray for family, friends, anyone that needs prayers lifted up.  I take them with me on my runs.
Now I ask of you and I know this isn't easy. You're all busy, you have families, tuition, bills, etc. you have charities you all help, but I need your help, Jack's Team needs your help!!
We need to defeat cancer, melanoma.
If I can ask to give what you can, I'll be forever grateful as I have in years past.
We will take donations, prayers, encouragement for our team, anything you can give will be appreciated. All the money received goes straight to finding a cure!!
I sat down with Jack's wife, Sharon Marston, and her son, Jack, last Saturday.
I explained to them that this year I'd like to RUN FOR JACK.
In the past years, I've run for many.
I've worn a shoelace in honor of Megan Boken.
I've worn wristbands for others.
This year I will run with one of Jack's old marathon bibs from Chicago and also a crucifix of his, grateful for the opportunity to honor him. I feel I've always run with Jack in mind, but this year is the ten year anniversary of his passing away – I feel I owe it to him.
Jack completed four marathons, one for each of his children.  I told Sharon that this medal will be for her – she deserves it!
I'm also this year throwing out a big fundraising number. We've done this before … we are putting out a number of $10,000!

Jack always said that he was "GOING TO BEAT THIS THING"!  Since his death, the Marstons' and so many of us are carrying on with the fight, the message.
Help me to keep Jack's fight going in "BEATING THIS THING"!!!
I feel I'm here for a reason … I know it's not about me.
There's something far greater, a bigger purpose!!
Running for those who can't, is I feel a big part of it, my way of giving back!
Please let me know if there's someone that needs prayer, I'm running 26.2 miles, lots of time out there!!!
Thank you in advance for your support!!
Jack's Team and I are forever grateful!!
Here's my link to donate:
http://www.active.com/donate/JT14CHI/Lutzy
Tags:
jack marston
,
jacksfund
,
marathon
,
melanoma