Miss the Lottery?
Act Quickly – Limited Guaranteed Entries Available.
Jack's Team also welcomes runners who currently have an entry into the TCS-NYC Marathon.

- Make a Difference in the Fight -
2015 GOAL: 
Raise $100,000 for melanoma research and awareness.
In 2014, collectively Jack's Marathon Teams raised $73,000!
---

4 Easy Steps between you and the Starting Line at the TCS-New York City Marathon
1. Complete and submit the online form by clicking the JOIN JACK'S TEAM button above.

2.  Complete and return the Fundraising Guarantee and Commitment
3. Individually register yourself for the TCS New York City Marathon when you get your invitation.
4. Set up your personal fundraising page and raise funds to support research, awareness and healing.

Train with the Team and our certified COACH!
---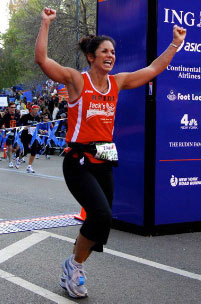 RUNNER'S BENEFITS
JMT Alumni receive special invite and incentives.
Guaranteed post-close entry into the TCS-New York City Marathon.
Personal website for online fundraising.
Facebook Group Page – connect with supportive teammates who have a common goal.

Nutrition and Fundraising tips.

Weekly coaching.

Personalized training schedules.
Team Incentive prizes for making or exceeding fundraising goals.
Satisfaction that you have made a difference.
---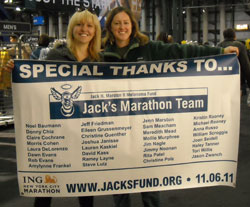 FUNDRAISING GOAL – $2,500
All runners are encouraged to set their goal at or above $2,500 and strive to do their personal best!
Runners registering for a guaranteed entry provide a credit card guarantee.
Jack's Team provides a free online fundraising page and other fundraising support.
Simply go to the Crowdrise Fundraising Platform Link below and click FUNDRAISE FOR THIS CAMPAIGN button and you'll instantly have your own fundraising page as part of the Team!
Fundraising Websites – Crowdrise
---
JACK'S TEAM FUNDRAISING SUCCESS
Since 2005, Jack's Marathon Teams have raised over $600,000.
Proceeds benefit the Jack H Marston II Melanoma Fund and drive vital research and awareness programs approved or provided by the Fund.
2012 Bank Of America Chicago Team Photo Gallery
2012 ING NYC Marathon Team Photo Gallery
2013 ING NYC Team News and Photos
2014 TCS NYC Team Photo Gallery