Boston 2014

STEVE'S FACEBOOK POST AFTER COMPLETING THE 2014 BOSTON MARATHON:
Happy blessed Boston Marathon, Patriots Day!!!
Well, 20th marathon finished is in the books!!
Wasn't exactly the time I was shooting for but I got something, wait I got more than I could've hoped or dreamed for today!!
I had my family here, incredible!!
I had friends here, incredible!!
I made amazing friends on the course!!
I high fived so many kids, people my arms got tired!!
They loved my shirt!!
The crowd carried me, you carried me!!
All the texts and Facebook messages, the inspiration was amazing!!There were many times out there that the mind was more willing than the body!!!
I learned so much about me today. I learned I can battle with the best!!
That BOSTON STRONG is truly amazing!! I learned as the gentleman at Fenway told me last night, I HAVE HAWRT!!!!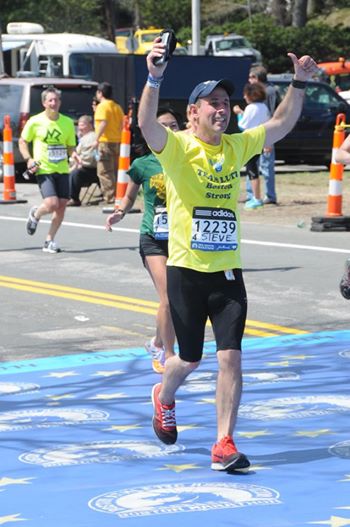 But I learned that I'm only as good as you allow me!!
That I'm so much better and stronger when I'm thinking of others!!
I learned my faith is stronger!!!
The biggest thing about coming here is I got a BIG PIECE OF ME BACK THAT I LEFT HERE LAST YEAR!!!
When I came around to Boylston street I was running with passion with a purpose!!  All your prayers were prayed for!!
 I got something so much better than a marathon time!! I got redemption!! THIS IS OUR FINISH LINE!!!
 I can't say thank you enough again to Sharon Ann Marston and Jack's Fund for getting me back here!! I RUN FOR THOSE WHO CAN'T!!
Thank you to my wonderful wife Kim Peters Lutz for the amazing shirt!! TEAM LUTZ AND JACKS TEAM WERE REPRESENTED!!
Thank you to all of Boston for orange slices , water from strangers, high fives and incredible encouragement!!
I will never forget!!
I will keep passing it on!!
Peace to you all!!