Jack H Marston II Healing Garden at Lutheran General Opens
The Jack H. Marston II Melanoma Fund Healing Garden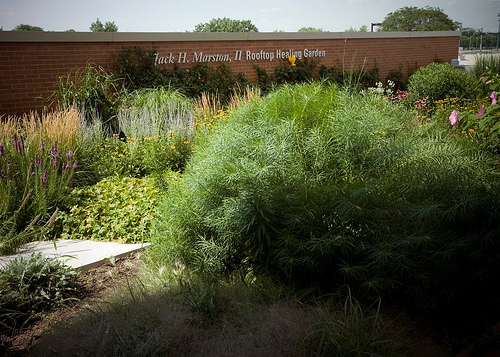 Jack's Fund celebrates the recent naming of the Jack H Marston II Healing Garden at the new Cancer Care Center at Advocate Lutheran General Hospital in Park Ridge, IL
Jack's lifelong love of the outdoors led him to seek respite and solace in nature during his struggle with melanoma, so it is particularly fitting that the Rooftop Healing Garden at The Cancer Care Center is named in his honor.
The Jack H Marston II Healing Garden will benefit all cancer patients and their families. The goal is to provide a restorative garden that will allow all those undergoing cancer treatment to seek and find comfort, inspiration and strength.
The naming was in response to the Fund's ongoing financial support of the melanoma research being conducted by Dr. Jon Richards, M.D. PhD. and his staff. We will continue to seek support and ideas to promote healing in the future.